---
Keratoconus Services from Our Indianapolis and Fishers, IN Optometrist
Most patients develop this disorder when they are between the ages of 10 and 25. The best prognosis occurs when an affected individual receives an early diagnosis and treatment at our Progressive Eyecare & Eyewear practice. Patients can schedule an eye exam at either of our convenient locations in Indianapolis or Fishers.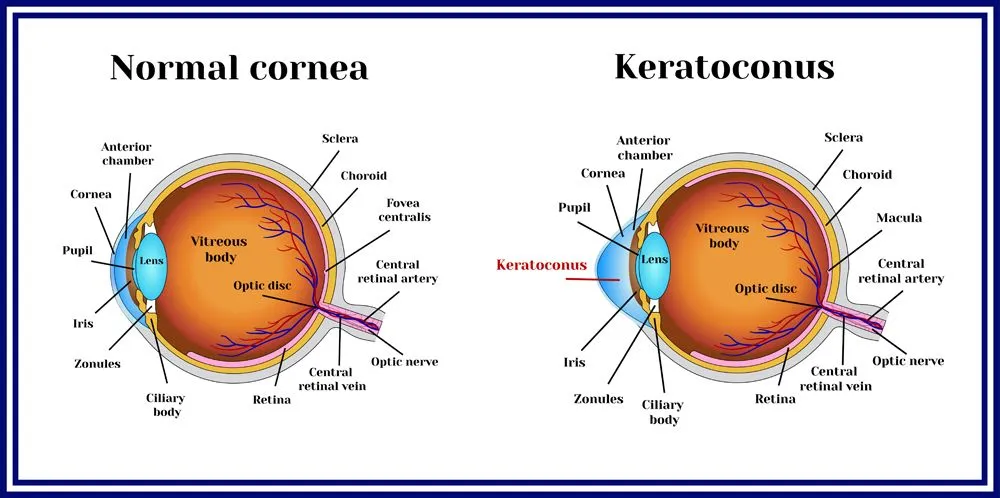 Overview of Keratoconus
Keratoconus is a fairly uncommon disorder that progresses unpredictably. It occurs when the cornea thins, permitting the eye to bulge forward and to take on a cone shape eventually.
According to our eye doctor, sometimes common symptoms, such as sensitivity to glare and blurry vision, do not appear for 10 years. In other patients, they emerge much sooner. The most common signs of this disorder include:
Distorted or blurry vision
Heightened sensitivity to light or glare, particularly at night
Vision that gets worse or clouds suddenly
Necessity for frequent eyewear prescription changes
Although research has yet to reveal a specific cause for keratoconus, professionals believe genetic and environmental factors might be responsible in part. Around 10 percent of sufferers have one parent who also has the condition.
Available Treatment
Once an eye exam leads to a keratoconus diagnosis, patients fortunately have a number of treatment options. Our optometrist indicates that eyeglasses are the traditional choice in the early stages of the disorder.
As the condition advances, many patients wear specialized contact lenses prescribed in a specific sequence such as piggyback, scleral, and gas permeable. For some, a procedure known as collagen cross-linking is beneficial.
Some patients opt to receive implanted inserts called intacs to normalize their corneal curve. The last option is undergoing a corneal transport. Our practice is happy to provide both pre- and post-operative care when a patient requires surgery to resolve a vision problem related to keratoconus.
Schedule an Eye Exam with Our Indianapolis or Fishers Eye Doctor
Our Progressive Eyecare & Eyewear staff is dedicated to providing the best eye care our patients require to maintain optimal vision for life. Whether you need special contact lenses for a condition such as keratoconus, treatment of issues linked to diseases like glaucoma, or vision correction via a new pair of glasses, we're available to help at your choice of two locations: Indianapolis (317-5958-8855) and Fishers ((317) 913-0700). The best vision begins with an eye exam. Take a moment to call us today to schedule one with our eye doctor at the office convenient for you.