If you reside near the Fishers or Indianapolis area, Progressive Eyecare & Eyewear is your trusted source for all of your optometry needs. No matter which location you choose to visit, we are committed to serving our patients with the highest integrity.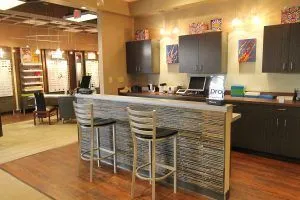 Eye Doctors That You Can Trust
We believe we have the most committed and experienced eye doctors who always have your best interest at heart. Working together as a team headed by Dr. Tim Birtwhistle, our optometry professionals utilize advanced training and state of the art technology. You will always have peace of mind knowing that your eyes get the quality care they need.
Our offices offer comprehensive eye care services that allow you to have everything you need in one spot. If you would like any information on the following services, contact us today or make an appointment.
Eye and Vision Exams
Contact Lens Exams
LASIK Eye Surgery
Eye Surgeries
Vision Therapy
Ortho-K
Treatment for Computer Vision
Sports Vision Treatment
Prescription Sunglasses
Eye Exams and More
Even if you have 20/20 vision, it is still essential to understand the importance of an eye exam. We are committed to preserving your vision and your eye health. Many eye conditions, such as glaucoma, cataracts, and macular degeneration, show no early symptoms. Whether you need a routine exam or something more like surgery or advanced treatments, rest assure our team will provide you with the best care possible.
Eyeglasses and Sunglasses
You will also find that we have the latest designer frames that will not only help you see better but help you look great as well. You will find something you like here, from the frames you need to look sharp on the job or the latest sunglasses for a summer day. Our staff will help match you with the best frames that fit your unique personality.
Get Quality Eye Care in Fishers & Indianapolis, IN
Progressive Eyecare & Eyewear has offices in Fishers and Indianapolis. We have convenient hours, including Saturdays, to fit a busy schedule. If you have insurance, we will help you fully understand your coverage and we aim to provide a financial alternative when it is needed. Call our Indianapolis office today at (317) 595-8855 or our Fishers office at (317) 913-0700.